I've been looking for ways to get more organized and finally decided on a planner.
I had pretty specific requirements for sections and pages so I decided to DIY it.
Read on for
How to Make a DIY Planner from a Notebook.
this post contains affiliate links
disclosure policy
It's time to get organized. And the best way to do that is with a planner. But hold on, you don't have to run to the store and buy an expensive planner, you can make one from a notebook.
Supplies needed to make a DIY Planner
Directions for making a DIY Planner
I started with a spiral bound notebook that measures around 6.5" x 8.5".
It didn't have a closure, so I added some elastic, held on with grommets.
When planning my planner (ha), I wrote down the different sections I wanted. Those sections were
year at a glance
monthly calendar
week at a glance
blog calendar
meal plan calendar
section for Church work
section for various notes
For the monthly pages, I printed each month on a separate page. I glued the printed sheets directly to the notebook pages, leaving one blank between each month.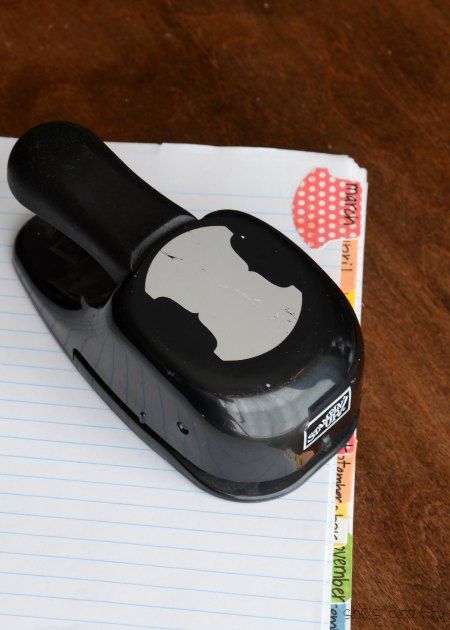 For the monthly tabs, I used my tab punch and punched 12 tabs in various colored papers. I folded them over and glued them right to the notebook page. Then I wrote the month onto each of them.
I separated each section in my planner with big binder clips that I covered in washi tape. This is the "week at a glance" section.
I made an envelope by folding a piece of patterned paper up to form a pocket and glued the edges down. Then I covered the edges with cute washi tape. Now I have a spot for notes.
This section is my favorite- it's my meal planning section. I love having the entire 2 weeks on one page so I can see at a glance what we are having and what ingredients I made need to purchase. I have been working hard to be better at meal planning this year and this section is making it so much easier!
Even though I have
washi tape storage
in my craft room, I made a small, portable holder just for my planner. (I use any excuse to make something) I used a dowel, cut in half, and a small wood coaster-type piece of wood. I drilled a hole in the wood, the same size as the dowel. Then I put some wood glue in the hole and tapped the dowel in with a hammer.
Do you use a planner? What do you like best about your planner?