I am a regular at the Nashville Flea Market. Over the course of the years I have attended the flea market, I have developed some tips for a
successful shopping trip.
10 tips for success at the Nashville Flea Market
The Nashville Flea Market is held at the Nashville Fairgrounds. There are many booths inside in the climate controlled buildings, but outside in the dust and elements is a great place to find the rusty crusty treasures I like.
10 tips for Flea Market success
1. Wear comfortable shoes.
There's TONS of walking, obviously. The Nashville fair grounds are at the top of a hill and the parking lot is at the bottom. It requires a bit of a hike, just to get into the market. If the weather is nice, I always wear flip flops because I swear my feet are claustrophobic. I know they are going to be filthy at the end of the day, but I'm ok with that because they can breathe. :) If the weather is wet, I wear rain boots.
2. Wear comfortable clothes too.
I always dress in layers, like shorts/capri's, tshirt and sweater. It seems to go from chilly to blistering hot quickly. I like the ability to take off a layer for heat or add one if I'm cold. Since Nashville weather is usually pretty hot and humid in the spring-fall, I like to keep my hair up in a pony tail and I wear sunglasses. Also, don't forget the sunscreen.
3. Bring a cart, wagon and a large bag
You'll need something to hold all of your loot. I use a large canvas tote to carry the smaller items I purchase. It also holds my wallet, my water and my snacks (more on that later). At the Nashville Flea Market, there are a ton of vendors that sell wheeled, collapsible carts for around $20. That's money well spent. You can use the cart to tote the larger items you buy to your car.
Collapsible wagons
work great too.
4. Bring water and snacks
Nashville Flea Market has plenty of vendors and food trucks that sell drinks and food. But saving my money to buy treasures is more my jam. That's why I like to bring a water bottle, and some small snacks like granola bars and peanut butter crackers.
5. Bring wipes and/or hand sanitizer.
Nashville Flea is at the fairgrounds. There are some indoor booths, but my favorite vendors have booths in the animal stalls. That means major dirt and dust. Most of the time, the items I like best are rusty, junky and very dirty, so my hands get so gross. I like to clean up a tiny bit until I can get to running water to wash my hands. Nashville Flea has many indoor restroom facilities available.
6. Be polite.
Even if you think a seller's prices are too high, don't insult them. Just say thank you and walk away.
I witnessed a lady repeatedly ask a vendor for a price on his items. She obviously thought his prices were too high as she gave him very dirty looks and shook her head, each time he told her the price of an item. The funny thing is that he kept making the prices higher and higher just to get a reaction from her. If she didn't agree with his prices, she should have just moved on to the next booth.
There are tons of people that shop at the Flea Market and tons of things to see. You will have to walk around many people.
8. Get there as close to opening as possible.
The good stuff sells out quickly so the earlier you are there, the better chances of getting it. Bonus points for getting a closer parking spot when you're early too. Yay!
9. Bring cash.
Some vendors do take credit cards, but cash is always a good idea.
10. Have fun!!
Going to the flea market is an event all in itself. You never know what you'll find and there's something for everyone!
While I was shopping, I ran into the
Eh Bee family
. Apparently they are taking a tour of the south and just happened to be at the Nashville Flea Market. I about died- I was so excited to see and meet them. My family and I are huge fans of the Eh Bees. And rightfully so, they were incredibly nice!!
In the
video
of their time at the flea market, you can see my feet walking up to them and hear my ridiculously fast talking voice. I'm at the 5:34 point if you're bored and want to watch it.
After a very successful shopping trip, this is what I ended up bringing home.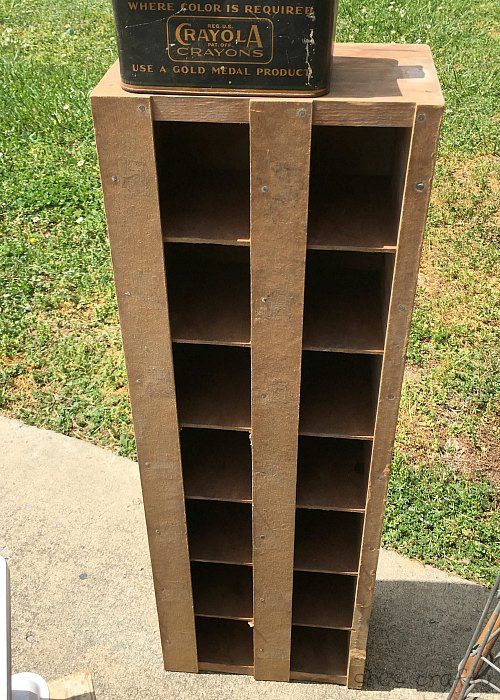 I got this rustic storage cubby for my office. I think I'll store ribbon and washi tape in it.
I think this was some sort of store display. The circles rotate. I think this would be a darling display for photos. They could be clipped onto the circles with clothespins or bulldog clips.
I just love industrial metal items. These metal tool boxes would be so cool with plants in them.
This metal crayon box has my heart! I think the succulents look so cute in there!
This metal scale is in such great condition. It came with the box as well.
The plaid container was once a cooler. I think it would look so great with a plant stuck in it. The small red scale is so fun too!
I also picked up this rolling cart and a bunch of vintage yard sticks. I think I'll use the yard sticks to make picture frames.