What kitchen couldn't use more storage, amIright? My kitchen is quite small so I have to make every inch count. But even if it wasn't small, I think I would like as much space as possible to display all of my favorite things.
So when I set out to get more storage in my kitchen, I wanted that storage to be not only functional, but pretty to look at. Farmhouse Open Kitchen Shelves from Reclaimed wood fit both form and function.
This post contains affiliate links.
In our kitchen, we have a spot that is seen from all entrances that can't hold a cupboard because of the layout of our kitchen. I've experimented with several decor items and furniture pieces, but never could quite find the "right" fit! Then I cam across the shelves that
Lolly Jane
did, and I knew that was exactly what I wanted to do.
I was able to reuse wood from another project. I left the nail holes and unfinished stain as is on the reclaimed wood, and then sanded the wood really well to age it even further.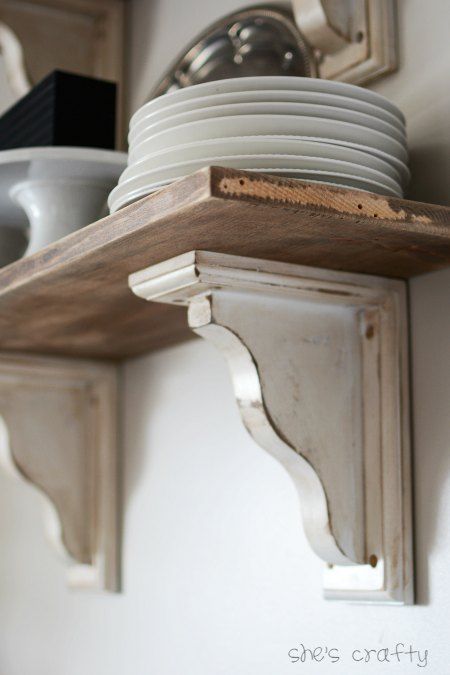 How to make a Shelf with Corbels and Reclaimed Wood
corbels
white paint
stain
sandpaper
I bought the corbels at Home Depot (
similar here
). Paint corbels white, then sand them heavily,
especially along the edges. Wipe the shelves to remove dust. Then brush on stain. Let that sit for just a few minutes, then wipe it off with a rag. Let dry over night. Attach the reclaimed wood to the corbels.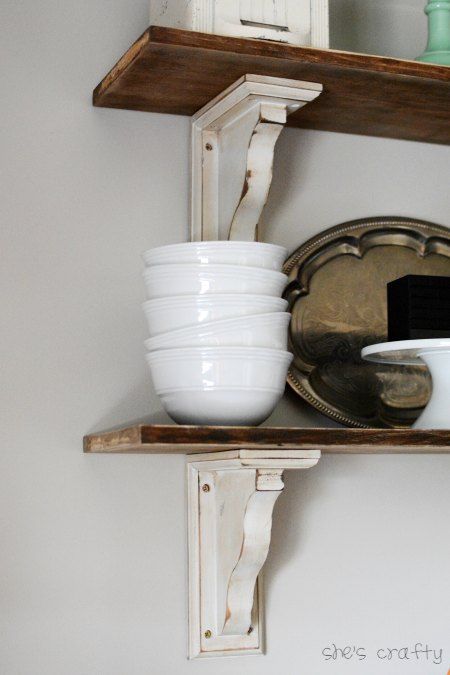 After the shelves are built, they are ready to hang. These shelves really need to be screwed into a stud or hung with wall
anchors
so they can handle the weight placed on them.
I'm not going to lie, hanging them was not very fun. I was home alone so just picture me standing on a chair, trying to get the shelves level as I marked where the holes needed to be. It was quite the balancing act. Luckily, I was able to get one side of the corbel screwed into a stud, so I only used wall anchors on the right side of each one. They are very sturdy!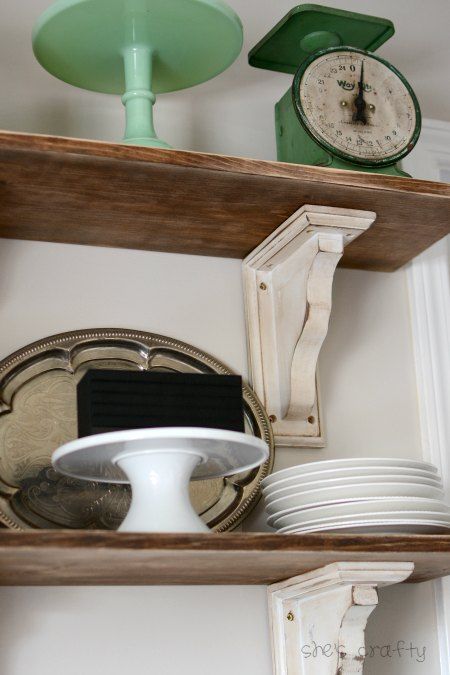 I styled the shelves with cake plates, vintage scales, a silver platter, white dishes that we use every day and my trusty blue tooth speaker (the black rectangle in the photos).
I love how the shelves turned out. They are so much fun to style and add farmhouse charm to my kitchen!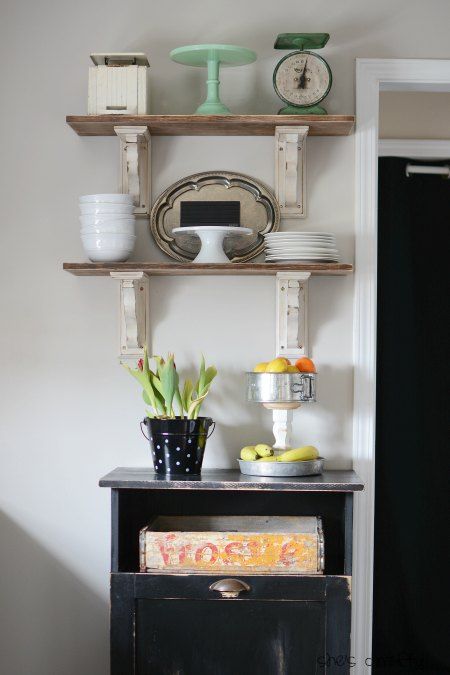 The shelves are also a little higher so I'm able to use the top of my trash cabinet
linking up to:
Pin Worthy Wednesday
,
Wow Me Wednesday
,
Moonlight and Mason Jars
,
The Creative Circle
,
Weekend Retreat
,
Craft Frenzy Friday
,
The 36th Ave
The Cottage Market
,
Link Party Palooza
,
The Inspiration Gallery
,
Something to Talk About
,
Show and Tell
,
Talented Tuesday
,