You know those "where are they now" specials on tv? I love those. So in the spirit of where are they now, I'm going to do a "what's it look like now" special on my blog. I'm revisiting old projects to see what they look like today.
In this episode of Previous Project Revisit, we will be checking in with many projects done over the years here at She's Craft!
Painted Kitchen Table
In July 2013, I painted our kitchen table. It was an orangy stained mess that I picked up for a super deal on Craigslist.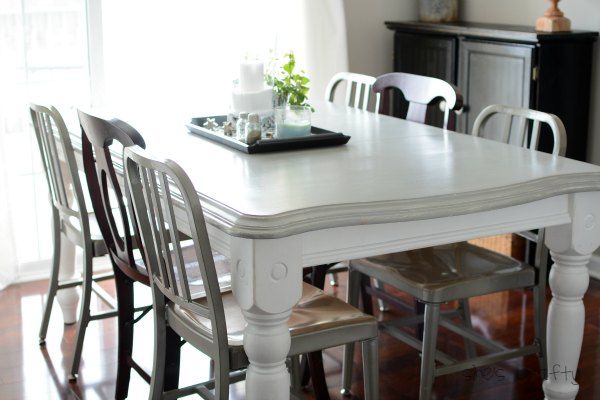 Laundry Closet
In October 2014, I redid our laundry closet.
Shared Boys Room Makeover
In the Spring of 2015, I gave my boys' room a makeover.
Gift Wrap Organizer
Way back in June 2011 I did this gift wrap storage rack.
Board and Batten
In May of 2010, with barely any tool knowledge at all, I put board and batten up in our living room.
How to Customize Store Bought Curtains
In May 2012, I customized store bought curtains.
Master Bathroom Makeover
In March 2012, I gave our Master Bathroom a makeover.
Forward Facing Book Shelves
In August 2011 I made forward facing bookshelves.
Kids Bathroom Makeover
In July 2012, I redecorated my kids bathroom.
Recovered Office Chair
In August 2011 I recovered my plain jane office chair.
This is what it looks like today- the exact same as it did 4.5 years ago. The staples and fabric have held up surprisingly well. The fabric hasn't torn, it looks perfect. The staples have stayed in as well.
Built Ins
In August 2014, I built in shelves and a cupboard in our dining room.
While these projects were time consuming at the time, but have held up well and been worth the effort. These projects have also made our little house work so much better for us. Don't be afraid to do a project because of how long it will take because the results are worth it. And you'll be so proud of all that you have accomplished.