Today I'm sharing an idea for a Vintage Ruler
Photo Holder.
It combines two of my favorite
things to decorate my home:
Family Photos
and Vintage Finds.
One of the many vintage finds I've collected
over the years
is vintage rulers and yardsticks.
I especially like when they are
have interesting printing on them
or come in interesting shapes.
Finding these square rulers
at the Nashville Flea Market
made my day and I couldn't wait to
find a way to display them.
When I put two square rulers together,
I thought it would make a perfect place
to display photos of my kids.
I used cotton twine
to hold the 2 yardsticks together.
I wrapped it around the
yardsticks in 4 places,
leaving enough room for photos.
I had photos printed and then
mounted on mat board.
The mat board makes the photos a
little thicker than normal,
so they are able to stand
without bending over.
I placed this photo holder
onto the bottom shelf
of the cupboard in our living room.
It's one of the first things visible
when walking into our home.
Photos of our three sweet kids
are the perfect thing to decorate
this treasured furniture piece with!
Decorating with family photos gives
our home a very personal touch.
I'd much rather look at photos
of my cute babes
than any other artwork!
So the next time you are at
shopping for treasures,
think outside the box
to display your awesome finds!
_______________________________________
See more posts like this one: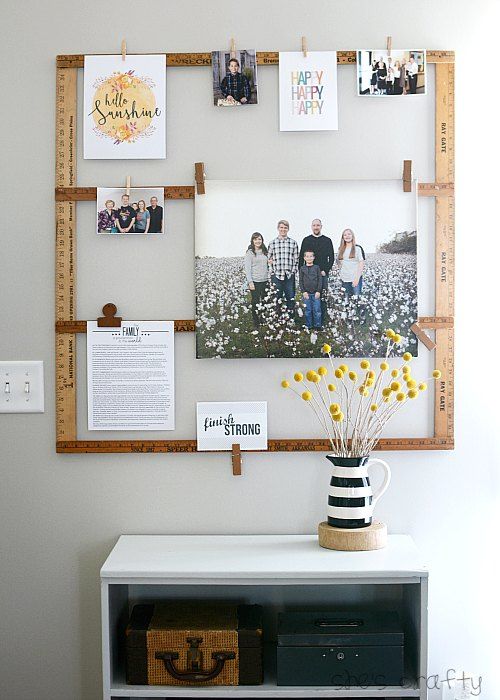 linking up to: